If you are familiar with the prior DayLite Hiker, it's a great boot. I still wear mine and enjoy running in them, up to 50K for Winter races. But, like a hiking boot, the new DLH Fusion has significant upgrades, such as more ankle protection, more water resistance, much better grip with larger lugs, and a smoother, and more durable upper.
| | |
| --- | --- |
| Specs |   |
| Use | Hiking Boot for all trail types. |
| Weight | 12.4 ounces per boot for a men's size 9. |
| Materials | Rubber and fabric. Vegan Friendly |
| Water | Water Resistant. |
| Widths available | One standard width, wide enough for most hikers. |
| Season | All-season use, but this one may get hot on warm days as it's water repellant and sturdy. The upper area around the ankle is pliable enough for long hikes or even running. |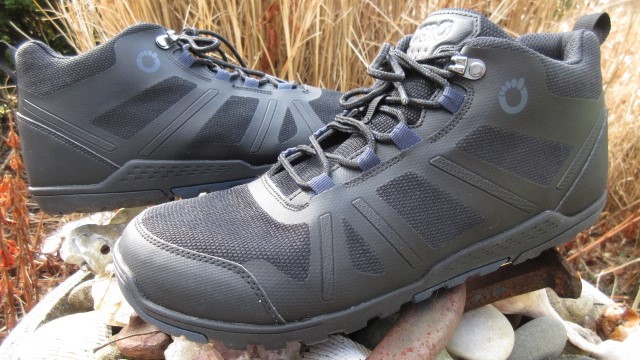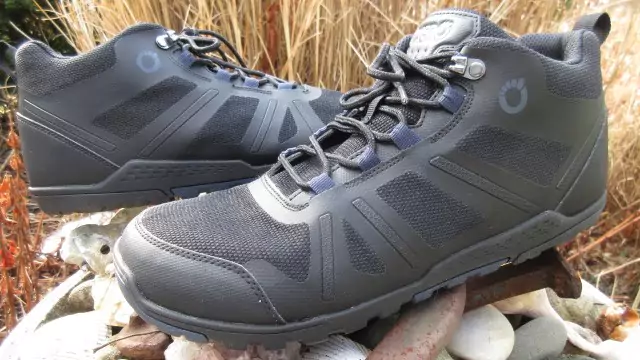 The Xero DayLite Hiker Fusion is a handsome, sturdy boot. I'd wear these to climb rugged mountains or go out to dinner. On the prior DLH model, there was more fabric and it was softer, so it would snag and get frayed. I suggested to people they use a match or lighter to melt that away if it bothered them and that works, but I don't think that will be an issue with this new model. The treads are significant for a minimalist boot. The total thickness of the outsole is good for protection, yet connection. I can feel the trail, but not too much. Total stack height is about 11MM, but 3MM less without the softer insoles. One can always use the boots without the insoles and they are designed for sockless barefoot use, although I prefer socks inside boots.
The new DLH Fusion is great work boot too, for shoveling snow the boot felt just right, although I'd prefer to use older boots for that sort of work, mostly to keep these more presentable for going out.
I suspect the market for this boot will be wider than the original and some "purist" barefoot types may view this boot as a bit much. It all depends on your fitness and goals. For me, this is a great boot for winter activities that will not compromise, in my opinion, the fitness I gain year-round with barefoot and more minimalist running and living.
Over the past few years, Xero Shoes has gotten better at getting its products to fit true to size. At my foot size, where the shoes only come out in full-size increments, not half sizes, I'm fortunate to measure right between at 11.5 inches actual foot size, so a size 12 Xero fits near perfectly in just about everything. Fusion in size 12 feels just right.
| Parameter | Score | Details |
| --- | --- | --- |
| Weight | 9 | Very light for about, but not as minimalist running shoes. |
| Wide toe box | 8.8 | A bit more narrow relative to other XeroShoes, but still very wide. |
| Heel to Toe drop | 10 | Zero drop. |
| Stack Height | 9 | Approximately 11MM total stack height with the insole, not bad for a hiking boot. |
| Sole flexibility | 8.8 | not as flexible as other XeroShoes, but still very flexible for a hiking boot |
| Foot grip | 9.5 | Excellent |
| Support | 10 | No feel of any support, very flexible materials. |
| Cushion | 9.5 | Just right for my foot fitness level. 3MM outsole is light and gives a bit of cushion. |
| Flat sole | 10 | 100% flat heel to toe. |
| | | | |
| --- | --- | --- | --- |
| Parameter | Score | Details | % |
| Does it do what it supposed to do? | 9.7 | An excellent hiking boot | 50% |
| Overall comfort in use: | 9 | Nothing out of the ordinary for a hiking boot. | 10% |
| Durability and quality of materials: | 9 | Very durable materials. | 20% |
| Surface grip: | 9.6 | Excellent on most surface types | 10% |
| Temperature management | 9 | Upper keeps cold and wind out, built to keep feet warmer in cold temps. Maybe a bit hot in the summer. | 10% |