BUYING OPTIONS
Primus Lite III (Newer model)
Primus Lite (Older model)
Review Summary:
The Vivobarefoot Primus Lite is Vivobarefoot's most minimalist training shoe. Many people have had issues with the durability, but I've accepted it as the cost of having less material and the price of more feedback from a barefoot shoe. Vivobarefoot has since made fixes on future models (which I'll also review and compare). I'm partial to this as a training/everyday shoe as it is a good casual, stylish shoe that doesn't scream "barefoot" like a lot of other brands do. I use it for running, training (CrossFit), and everyday wear.
Pros
Lightweight
Maximum feedback
Very breathable
Wide toebox
Can be worn casually/outside of the gym without looking too much like training shoes
Cons
Durability
Lack of grip for athletics(ie sled pushes) or hiking (almost no tread means it's very slippery in even dry soil)
More expensive than competitor brands in the same category
| | |
| --- | --- |
| Specs |   |
| Use | Walking, running, training. |
| Weight | Weight: 6.5 oz/184g M42. |
| Materials | Vegan materials: Breathable Recycled PET Mesh, Synthetic 3mm insole. |
| Water | Not very water resistant but it dries quickly as it's meant to breathe. |
| Widths available | Only one option available for men, but it's wider than most barefoot brands |
| Season | Summer or Spring. Can be worn in Autumn with thicker socks, but it won't be very warm. |
Check out all models and prices for minimal running, vegan paved/road shoes. You can compare prices and specs using our minimal shoes price scanner.
Purpose of the shoe as defined by the brand:
The Primus Lite is one of Vivobarefoot's best-selling shoes – it's meant to be the thinnest, most flexible all-around shoe that gives the user as much sensory feedback as possible. Designed for running, walking, and training.
I've been wearing these shoes for nearly 2 years, now. The first year was casual/as an everyday shoe, and now it's my daily workout shoe (as I train twice a day). If I were to only judge this shoe on what they advertise (walking, running, training), it would be a 2.5/3. The only reason that it loses points as a training shoe is that it depends on what kind of training you intend to do.
For everyday use and walking, this is a great shoe that has really good feedback. Compared to the other Vivobarefoot shoes that I have, this is easily the best in terms of breathability and not retaining too much moisture. I live in Bali, Indonesia now, but often take this shoe traveling when I'm in warmer climates (or to train in gyms around the world).
What I love about this shoe is that it can be worn casually, without advertising that it's a running or barefoot shoe – it comes in black, is truly minimalist, and can be worn with cuffed pants without having that awkward training-shoes-with-jeans look.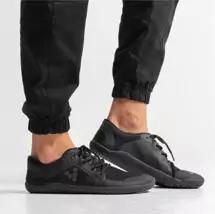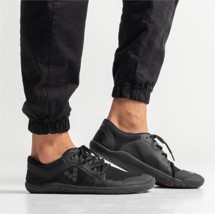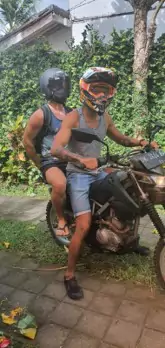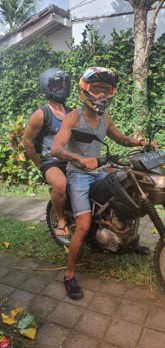 I use a motorcycle as my primary mode of transportation in Bali and have stopped wearing this shoe as the gear shifter was wearing out the mesh very quickly. Obviously, this isn't a fault of Vivo's as it's not advertised as a motorcycle shoe!
When it comes to running, this shoe is great on asphalt/concrete. Vivobarefoot's pro5 sole holds up pretty well to abrasion and holds true to their puncture-proof claims ( I don't recommend it, but I've stepped on glass, very sharp rocks, and rusty metallic edges when climbing and exploring). My biggest gripe with this shoe in relation to running is that while the sole is a durable material, the tread is not! It wore out within 2 months of walking and is so thin that it doesn't offer much grip (expect any help from these shoes in loose gravel and you're better off going barefoot in the wet ground).
Now, where this shoe gets mixed reviews for me is in training. If your goal is to go to the gym and lift weights, the Primus Lite will give you great feedback, protect your feet, and allow you to work on ankle mobility without handicapping you. I find that for (Olympic) weightlifting purposes, this shoe allows you to transmit force through your feet (and in turn, your shoe) without losing too much power in the process.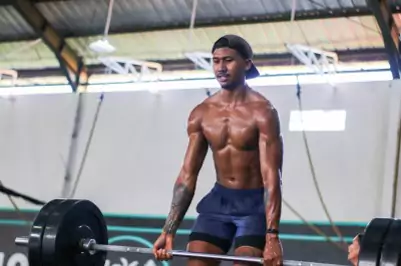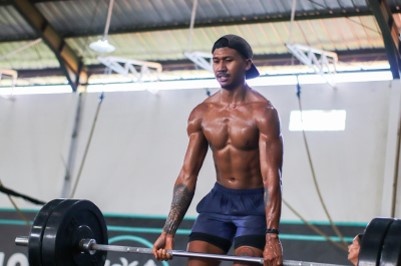 I love how well these shoes breathe because training HIIT /Crossfit workouts in an open-air gym can lead to very sweaty shoes and I have fewer issues than my training partners tend to have with shoes getting smelly or not drying by the next training session. They're by no means quick-dry, but less material also means less water absorption!
The Primus Lites are generally great for training, but they don't hold up so well over time. The feedback from the thin, flexible shoes is great but after 2 months of training in them every day (lots of burpees, rowing, assault bike workouts, lunges, squats, and running), each shoe has ripped an eyelet. As you can imagine, they also aren't suitable for rope climbs… but it wouldn't be fair to penalize Vivobarefoot for this.
The glue has also come apart from the heels to the midsole and while not too noticeable as mid and forefoot strikers, this means that your feet aren't as planted when pushing off from a jump, push press, snatch, or clean and jerk. Lastly, the tread wore out within my first 2 sessions of sled pushes and it just doesn't grip the ground very well when pushing.
With all that said, I haven't found a shoe that I like better for training (I also have the Vivobarefoot Stealth's and Vibram KSOs) and this is my third pair of Primus Lites in 4 years. It's expensive to keep replacing these, but reading the ground and getting feedback from it is very important to me when running; the benefits of a flexible shoe far outweigh the durability for me. I've also just received the primus lite 2's and I'll be testing those over the next couple of months since Vivobarefoot has claimed to make improvements on the design of the newer model.
Summary
If you're new to the barefoot movement, these are great to start walking in…but definitely don't start by running in these. For intermediate to experienced minimalist runners, this shoe will give you as much feedback as a shoe without individual toes can give. If you're an athlete who likes to train, the freedom of mobility comes at the price of longevity. And if you're just looking for casual shoes, these are great for warmer climates where it doesn't rain very much!
If I were to find a 100-mile race course that smooth enough, free of crushed gravel, roots, etcetera, I would consider going a full 100 miles in the Speed Force, even though the outsole is considerably thinner than the Z-Trail, sans socks, from Xero, which is the lightest footwear I've completed that distance wearing. Am I fit enough to do that? There's only one way to find out!
Speed Force sets the standard for lightweight, function, utility, and style. You too might want to hug and kiss them.
| Parameter | Score | Details |
| --- | --- | --- |
| Weight | 9.5 | Very light. |
| Wide toe box | 9 | Very few brands are wider. |
| Heel to Toe drop | 10 | Zero drop. |
| Stack Height | 9.5 | 3MM |
| Sole flexibility | 9.5 | Very flexible. |
| Foot grip | 9 | A good and simple lacing system. |
| Support | 10 | No feel of any support, very flexible materials. |
| Cushion | 9.5 | By design, there is very little cushion. |
| Flat sole | 10 | 100% flat heel to toe. |
| | | | |
| --- | --- | --- | --- |
| Parameter | Score | Details | % |
| Does it do what it supposed to do? | 9 | It's good for what it was intended for. The only issue is durability. | 50% |
| Overall comfort in use: | 9 | Moves well and is as close to feeling barefoot as a closed-toe shoe can be. Great foot feedback. | 10% |
| Durability and quality of materials: | 6 | An eyelet for the shoelaces has ripped from each side, the sole is coming apart, inside cushioning is worn out, glue from the heel is coming apart. | 20% |
| Surface grip: | 6 | Very little grip. Some little tread was worn out in a couple of months. | 10% |
| Temperature management | 9 | No thermal isolation as it's meant to breathe and dry quickly. | 10% |