Vivobarefoot MAGNA FOREST ESC editor review
Brand:
Vivobarefoot
Model:
MAGNA FOREST ESC
Minimal Meter:
Ok minimalist standards, but can be better.
Who should use it:
Adventurers looking for a tougher minimalist boot. This is as waterproof as a boot can get while still being able to breathe.
Most suitable for:
Ideally in rugged environments. Great for snow, rain, or mud. It is slightly uncomfortable in warmer weather but is manageable and versatile enough to be used in warmer climates.
Durability & Protection
86
Review Summary
Although I've only got to test this boot for 2 months, it is great for hikers who want a boot that's able to handle almost all environments. It is slightly uncomfortable in 25-degree celsius weather, but thanks to the merino wool lining, it is better than most leather boots. It has a surprisingly good ground feel for a boot with bigger lugs and a lot of treads. The grip is great for muddier or slippery terrain. It is as water-resistant as a boot can be while still being able to breathe and dry from sweat. Like all leather products, care must be given to conditioning them (which is included with the purchase in the box).
They've listened to past user feedback and sewn on the soles (which tended to come apart over time in previous models)

The Merino wool lining allows your feet to breathe and makes the boot usable in warmer climates too

The sole has been developed in partnership with Michelin. Time will tell whether or not it's worth the premium, but there's almost no wear on the bottom of the shoe. As noted in previous reviews, I have had issues with the longevity of the soles in Vivo's road shoes.

Comes with a conditioning wax so that the boots can (hopefully) last
This boot is on the pricier side. In Vivobarefoot's defense, you are paying for premium materials.

Very uncomfortable to wear with shorter socks as the lining will rub on the upper ankle. This might change over time (a 6-month review may be in order).

The lacing feels very loose at the top, even when tied tightly. 

Sizing is still inconsistent between Vivobarefoot products. I ordered a 42 based on their measuring tool and my other Vivobarefoot shoes. I also based my sizing order on other reviews that it ran a little small because of the heel protruding. A 41 would have been better for me.

The fit, in general, is loose all around. I'm not sure if that was intentional but I have wide feet and it still feels way too roomy
"ESCape to reconnect to nature and rewild your feet, body and soul. Made with super-natural materials including a Woolmark® knitted collar and a newly-engineered, super tough and flexible Michelin® outsole. Developed for extreme terrains, forests, deserts and jungles. Lightweight for dawn to dusk explorers."
Materials:
Woolmark® knitted collar for perfect fit and natural movement freedom.

Water-resistant with tough-wearing durable wild hide leather panels.

Includes a 50ml tin of Renapur made from a natural recipe.

ESC Michelin® rubber sole for ultimate, flexible grip across the wildest terrains.
This is the newest version of the Magna series. This is the newest, most rugged model. I haven't had any experience with the other models, but I did research them before choosing the ESC as they seem to have made improvements from common complaints. As the name suggests, the ESC is short for ESCape (to other environments). The only other heavy-duty boot that I've had is the Feelmax Kuuva 3, and even that isn't comparable as the Kuuva is meant for winter climates only.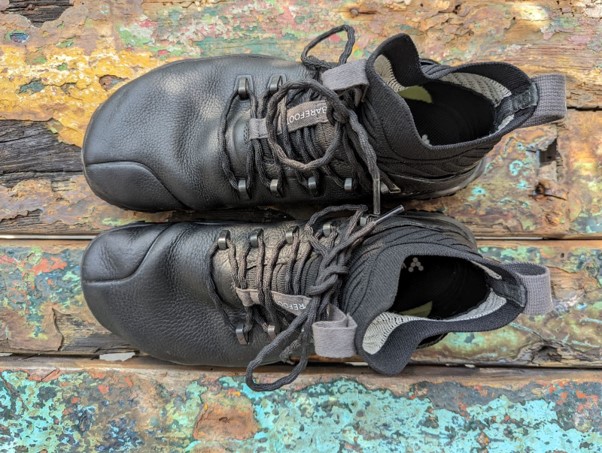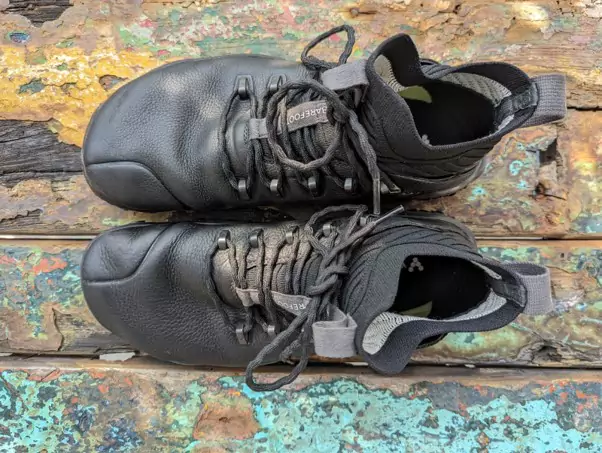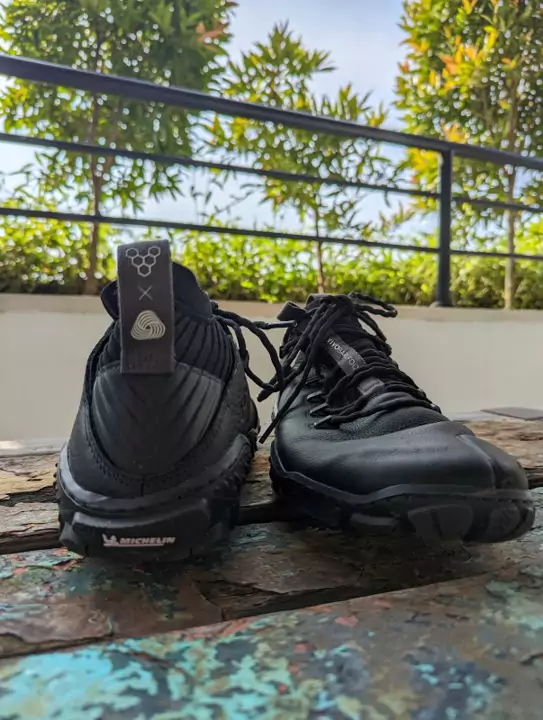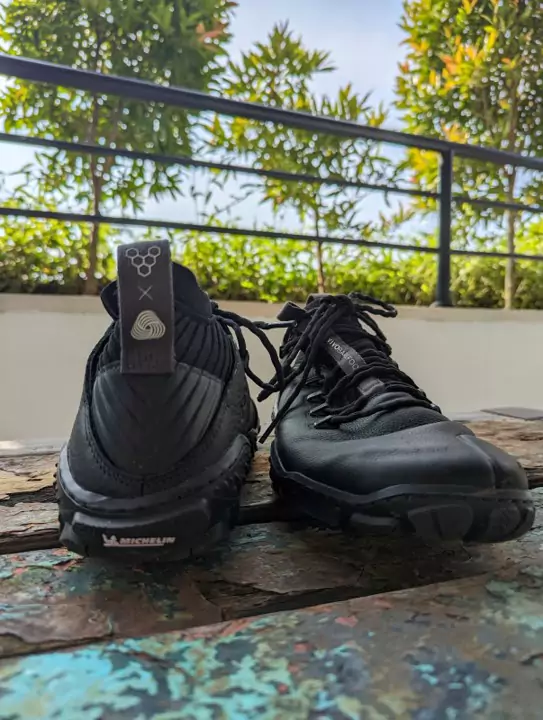 Flexibility Test:
Performance:
I am impressed with how well these boots breathe. They kept my feet warm in the Canadian winter, but I've also been using them here in warm Bali. I sought to find a versatile boot like this for my minimalist pack and this seems to be perfect for what I wanted (apart from some minor gripes). At the time of writing this, it's currently the rainy season in Indonesia and my feet have never been wet. I do suspect if you stay out in the rain long enough, it will penetrate the Merino liner, but the leather part of the boot does a great job of keeping water out. Hiking in these boots is great as I find that heavy-duty boots will keep your feet dry, but the inside will eventually get wet from retaining sweat.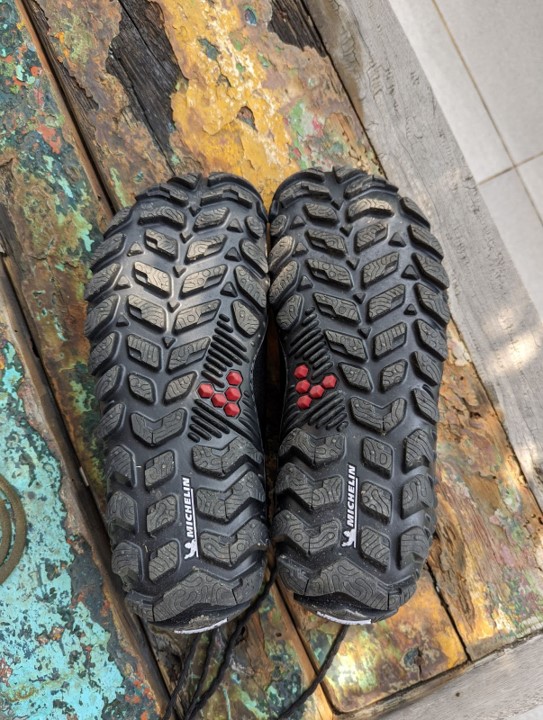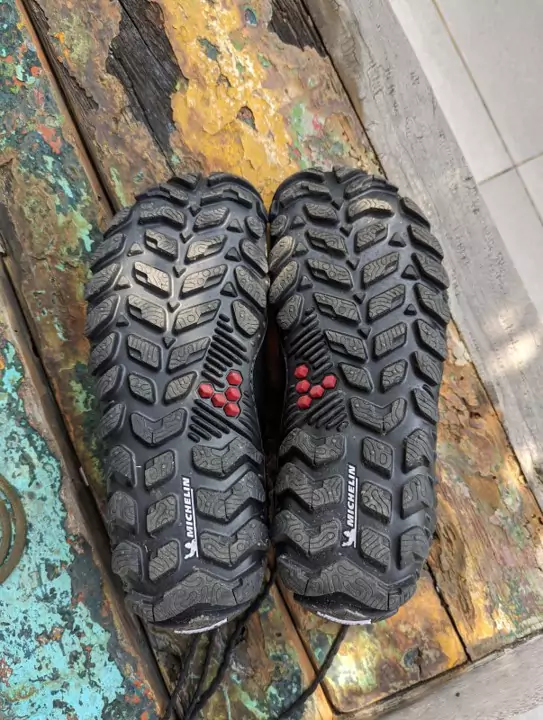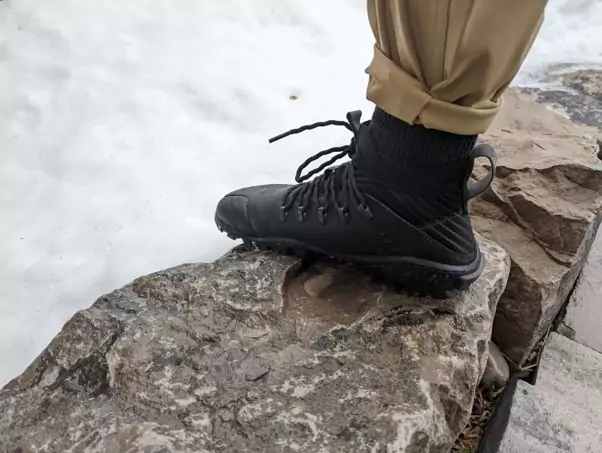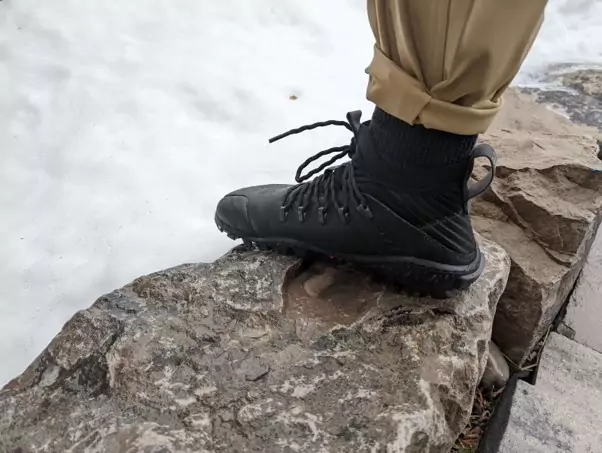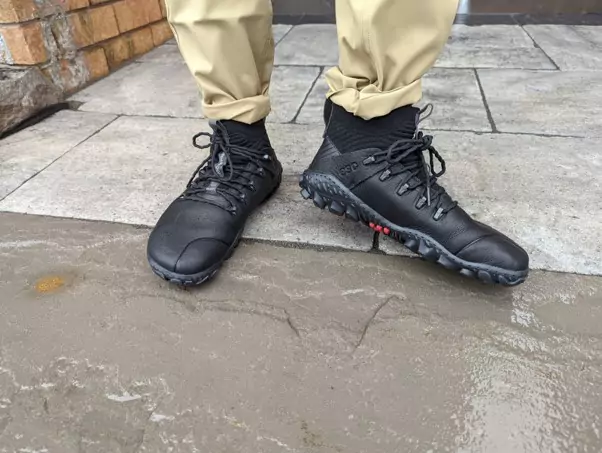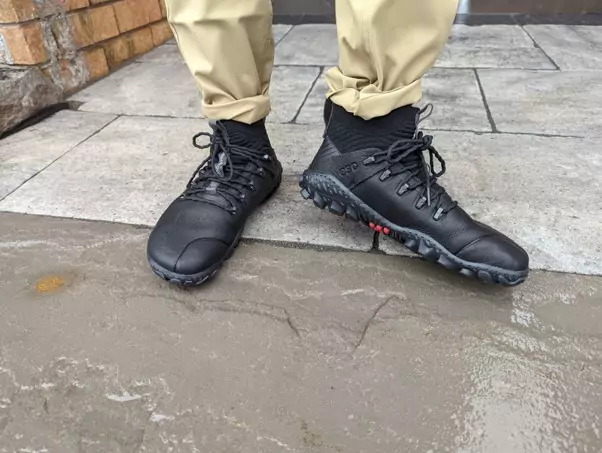 How it feels:
These boots do move very well and feel fairly light, but I have had lighter hiking boots with more flexibility. I am willing to trade off a bit of ground feel for longevity as the opposite end of the spectrum is that I prefer to hike in Vibram FiveFingers, but they either don't have grip, aren't water-resistant, or rocks/sand tend to get inside very quickly. As with all of my shoes, I take out the insole that comes with it as I generally wear socks and want to feel the ground as much as possible; this tends to make the boot even roomier than it is.
Durability & Protection:
It's too soon to tell how durable these boots are, as it's only been through 2 months of casual use and a couple of hikes. It does offer lots of protection as it is a full hiking minimalist boot. As with any leather shoes, creases have started to appear – unfortunately not in the best places as it slightly pinches the toe with all of the room.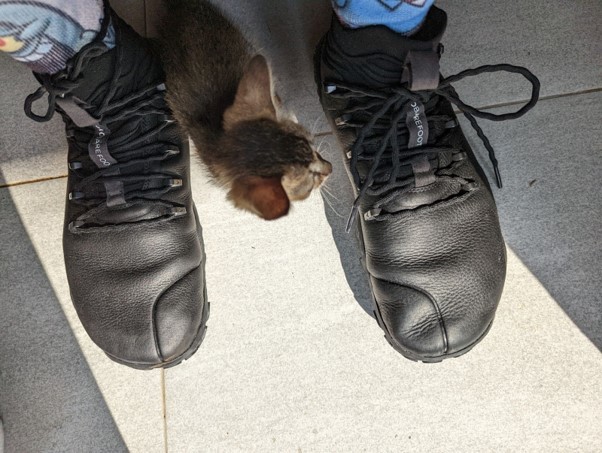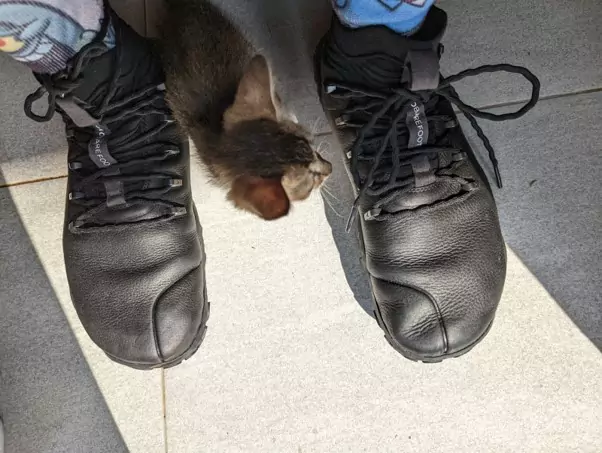 Fit & Sizing:
This is my 10th pair of Vivobarefoot shoes and I've been having issues with size consistency. Luckily, their return/exchange policy is very fair and if it weren't for the fact that I'm now based out of Indonesia, I would try to exchange these for 41s. I'm generally a 42 in most barefoot brands and earlier Vivobarefoot shoes. I got a 42 based on other reviews, but wish I got a 41 as it does run very big.
The sock liner doesn't feel very snug which tends to let the foot move around. This is a tradeoff with having the merino elastic lining – but it does seem to be designed this way and only more time in the boot will tell whether or not it's practical.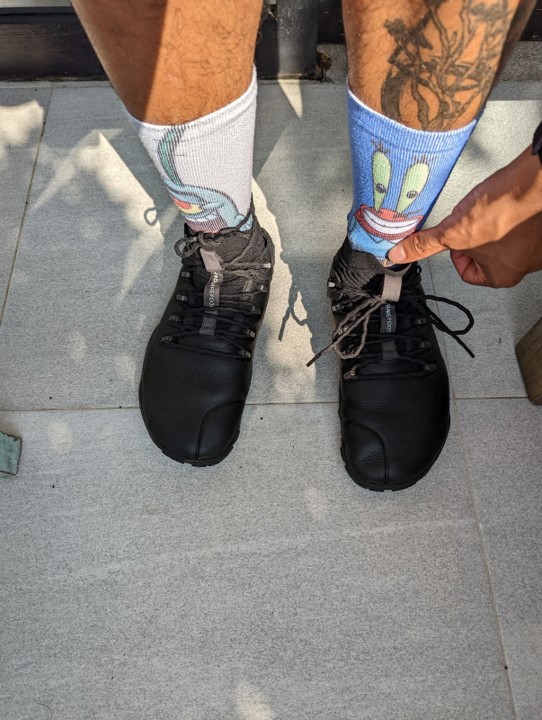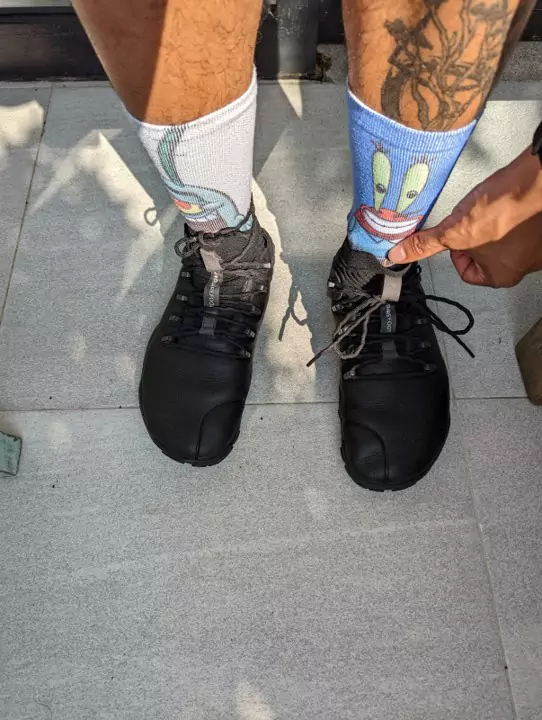 Cleaning & Care:
I do want to give Vivobarefoot credit for providing Renapur leather balsam for conditioning the boot and keeping it waterproof. This is an added detail that I really appreciate as it avoids people picking the wrong product and allows us to just follow their recommended care guidelines.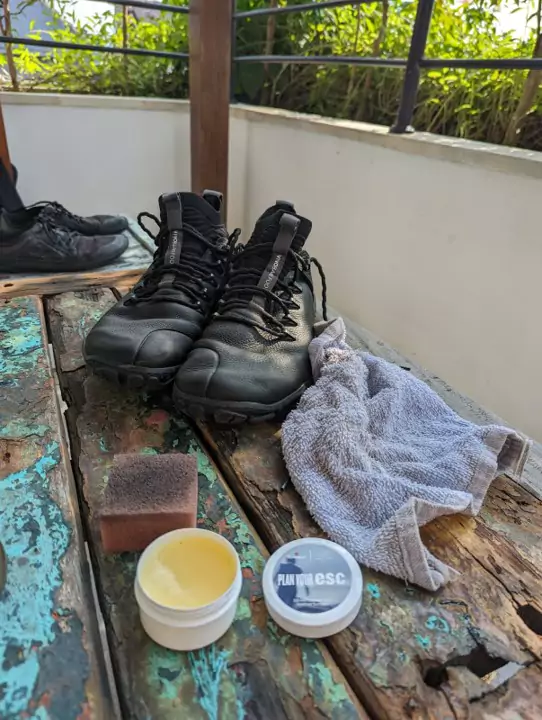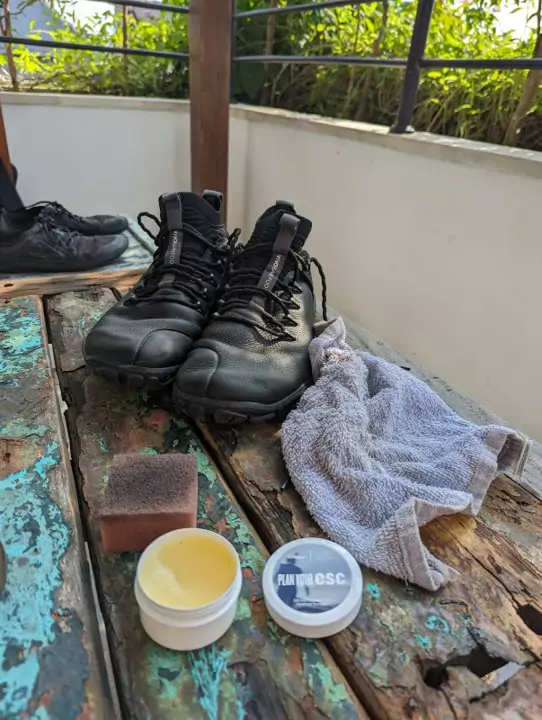 It is a softer leather, so caring for it is imperative as this is generally less durable and waterproof than harder leathers. I love the initiative by Vivobarefoot to use wild hide leather as a benefit to the softer leather is that it does tend to breathe better.
Conclusion
Don't let the minimalist score deceive you, I still recommend these shoes – they will just naturally lose points in minimalism as it was designed to be tough and rugged…which tends to sacrifice minimalism for the sake of durability and protection.
I was looking for a versatile, multi-climate boot that could be used to keep my feet dry during the rainy season in Bali, but wasn't so heavy that I could only ever use it for hiking. This boot does all of that and can actually be worn with pants without looking too dorky. I'm a loyal Vivobarefoot customer because they tend to make barefoot shoes that aren't obviously barefoot (ie split toes, weird designs, only made in flashy colors). You can tell that thought was put into the design of these and I appreciate it for the premium product that it is.
As mentioned earlier, I do wish their sizing was a little more consistent but they do make the exchange process very convenient.
This has earned a spot in my minimalist travel pack; the Magna ESC has replaced my Ra as my wet weather city shoe that is also better suited for hiking.
Minimalist AVR Score:
Read more about what this means
| Parameter | Score | Details |
| --- | --- | --- |
| Weight | 72 | I'm conflicted on this rating as it would be unfair to compare it to the weight of a minimalist shoe…but I do have lighter minimalist hiking boots that are 200 grams lighter. |
| Wide toe box | 75 | It lost some points here as it almost feels wider than necessary. I have very wide feet and there's still too much room. |
| Heel to Toe drop | 100 | In a zero-drop shoe, your heel and toes are levels, which mimics your natural barefoot position on a flat surface. |
| Stack Height | 65 | 2.5mm base + 7mm lug height. |
| Sole flexibility | 60 | Very stiff for a minimalist boot, but still more flexible than the average shoe. |
| Foot grip | 60 | They do feel too loose, even if tied tightly at the top. Although this might also be because they're meant to be worn with thicker socks. |
| Support | 70 | The reinforced mesh makes the shoe feel very fluid when pivoting or moving laterally. |
| Cushion | 65 | It feels more like a glove for your foot, than an extension of your foot. |
| Flat sole | 90 | 3mm, and it comes with insoles that take away from the barefoot feel. I never use the insoles, so can't comment on them. |
Specs
| | |
| --- | --- |
| Brand | Vivobarefoot |
| Model | MAGNA FOREST ESC |
| Product Type | Shoes |
| Activity Type | Daily Use, Hiking, Strolling |
| Terrain | Off Road |
| Eco Friendly | Recycled |
| Design | ,Boots,Boot |
| Materials | Leather, Merino Wool, Mesh, Rubber, Wool |
| Season | Colder Whether |
| Sole Attributes | Enhanced Grip |
| Water Protection | Water Resistant |
| Weight | |
| Heel Toe Drop | 0 |