Incredibly light, comfortable, and functional general-purpose minimalist non huarache style sandal. Wide straps flex with the foot for a totally natural feel. The 10MM outsole is so light for a barefoot feel on rough surfaces. Ideal for the crushed gravel that is so commonly found on trails, etc.
| | |
| --- | --- |
| Specs |   |
| Use | Casual, active, and hiking sandals for all trail types. |
| Weight | Just 5.4 oz. per sandal for a men's size 9. |
| Materials | "Vegan Friendly" of rubber and fabric. |
| Water | The outsole is waterproof, while the laces will only absorb nominal moisture. Great for stream crossings as water drains away and the laces feel OK when wet. |
| Widths available | There is one standard size that will work for most feet. |
| Season | Primarily for warm climates and a very good choice for wet areas. |
Form follows function and sometimes that can lead to footwear that looks awkward. Z-Trails are highly functional and look great on men's, women's, and children's feet. So, it's not surprising the "Z" is a best seller for Xero Shoes.
My deep appreciation for the Z's has evolved slowly. Prior to the initial launch of the Z's, my "wear tester" pair had a manufacturing defect in a side post. This leads me to use them for lighter duty use only. I have loved them for walking comfort and as a recovery sandal after covering great distances in huarache style sandals. Z's gave me a break after running in a toe post style huarache sandal and they have a touch more cushion than most of the other minimalist running wear.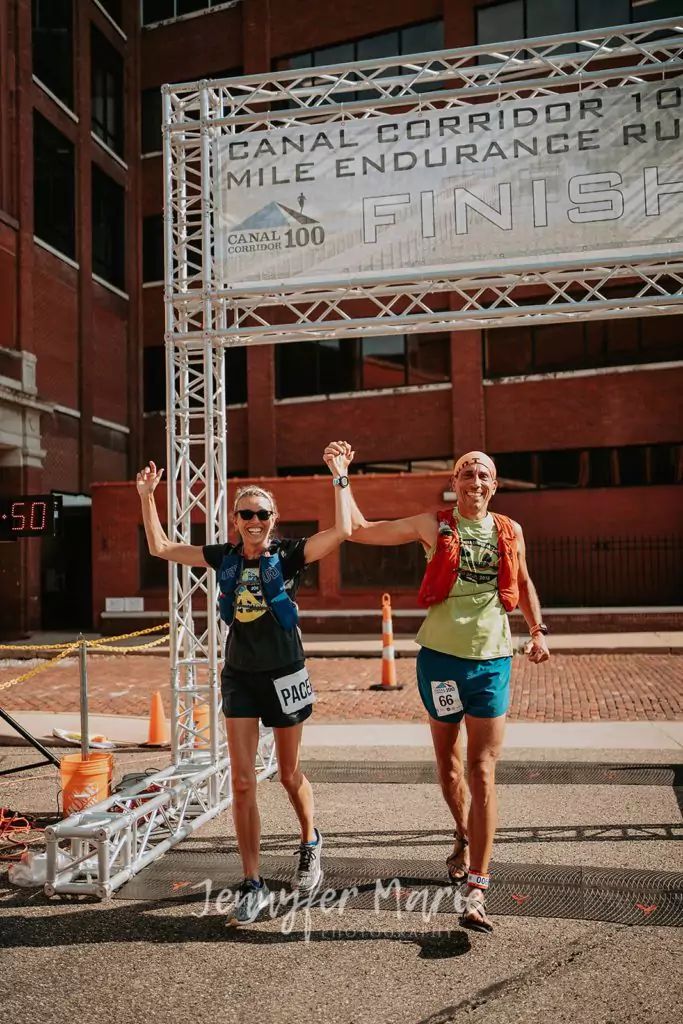 One of the best parts of running a 100-mile race is the hot shower afterward. Slipping the Z-Trails on after that is a treat, as my feet don't want to be squeezed into a shoe while swollen. The Z's are easy to slip off for barefoot driving as well.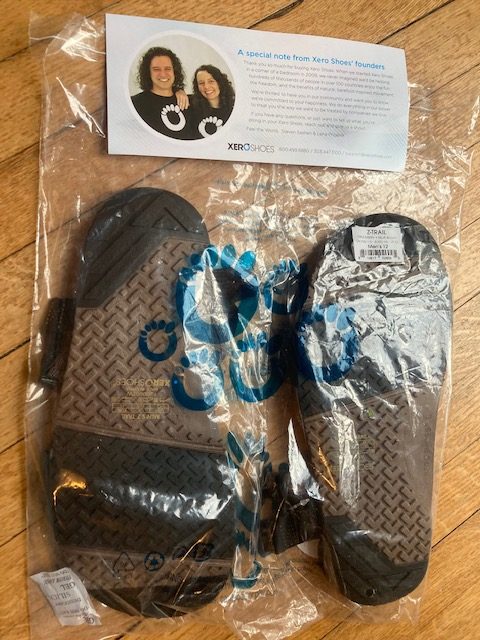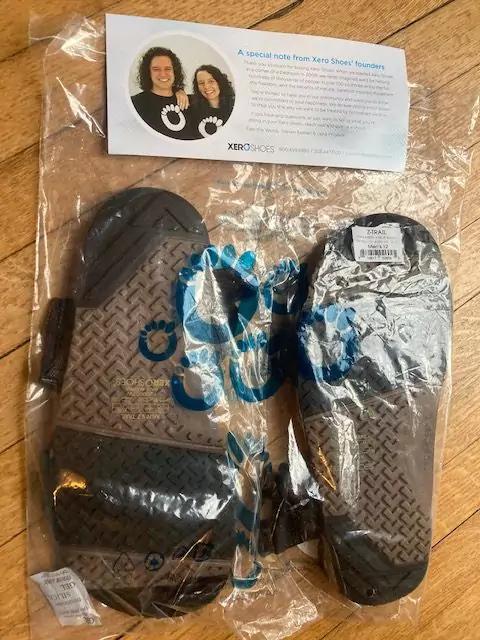 So, in my mind, the Z's were great for general use, shorter training runs, and recovery, but the pandemic changed my thinking. Serendipitous that when REI canceled a huge order of Z-Trails due to the pandemic/lockdown, Xero offered us a special price that resulted in my wife and three daughters all getting Z's.
And with my new pair, I started running long routes close to home in them while races were canceled. My confidence and enjoyment of them grew. I then realized the Z's were the ideal sandal for the hot and humid mid-July Canal Corridor 100 mile endurance run here in Ohio. The trail was mostly paved, smooth, and relatively flat.
Knowing that we humans lose about 25% of our excess heat from our feet, meant that I had an edge as the only sandal runner at the 100-mile race. I ran it well, finished strong, and had no blisters or skin issues. Z-Trail is the lightest sandal I've ever worn for 100 miles and the first Xero product that my entire family loves. It's wonderful that they come in kids' sizes.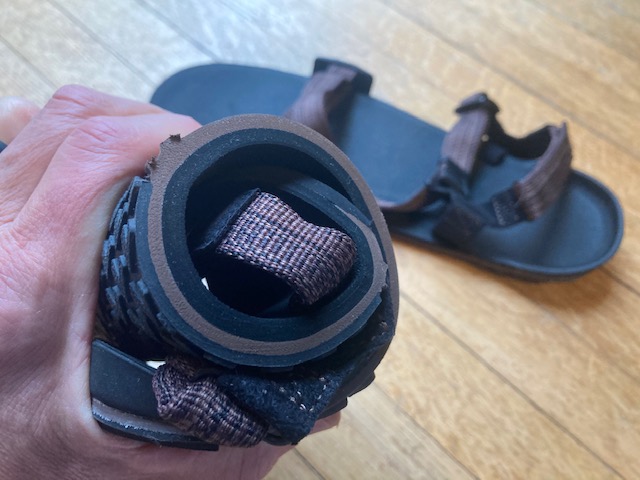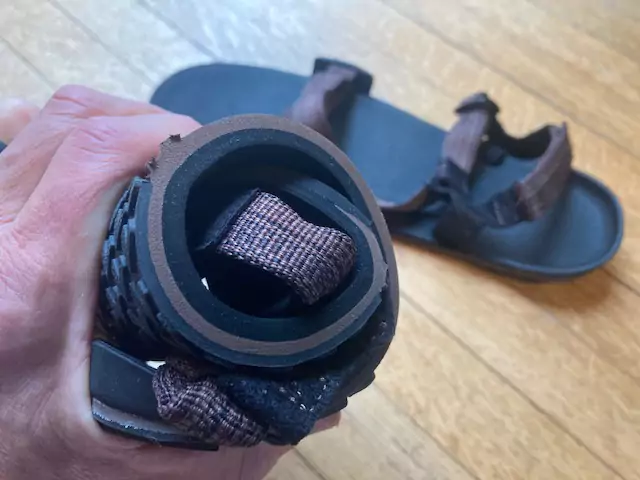 I recommend that people rotate the use of Z-Trails with Xero Genesis, the super thin and minimalist huarache style sandal, and the Z-Trek. Z-Trek is similar to Z-Trail in the lacing system, but the outsole is a thinner, solid piece of the sturdiest rubber they use, so it gives more trail feel, and less cushion. The Genesis also has an outsole with only one weight of rubber, so it is little or no "molding" to the foot, simply slow wearing of the rubber from the ground up.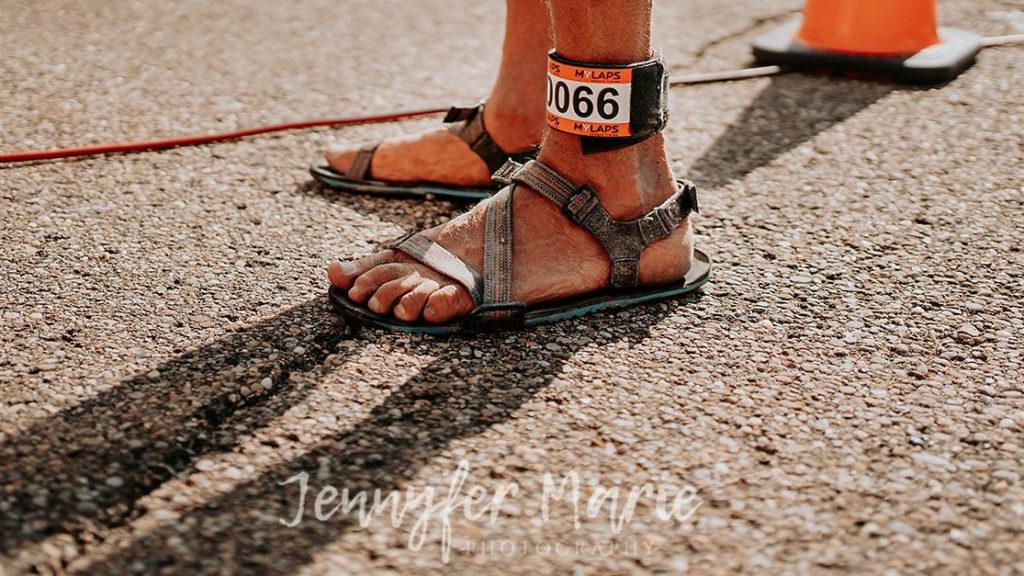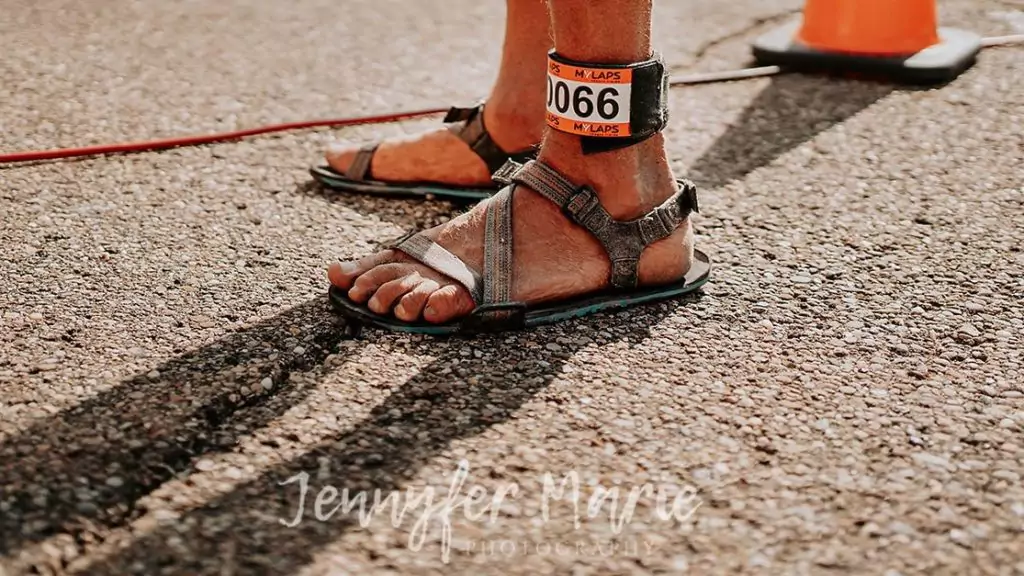 Of course, pure barefoot motion whenever it's safe is ideal. Sometimes the minimalist products are so good, we forget to take them off and more fully feel the world.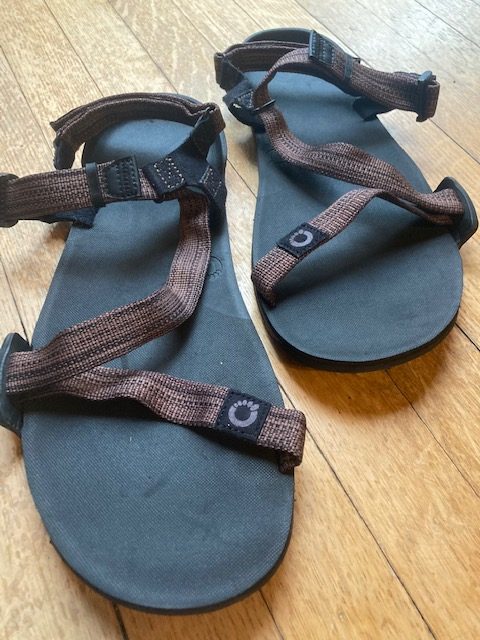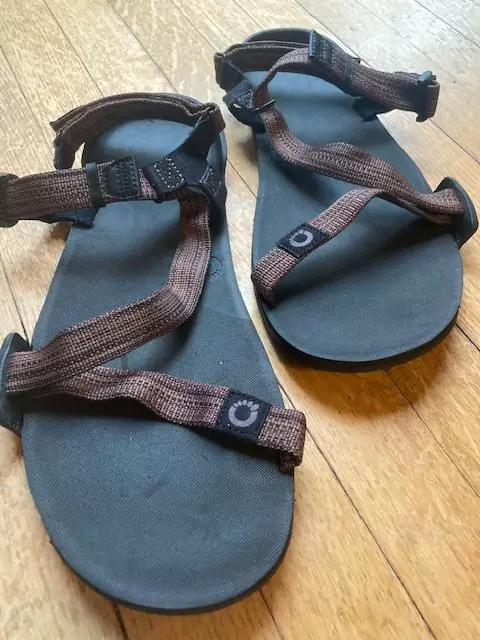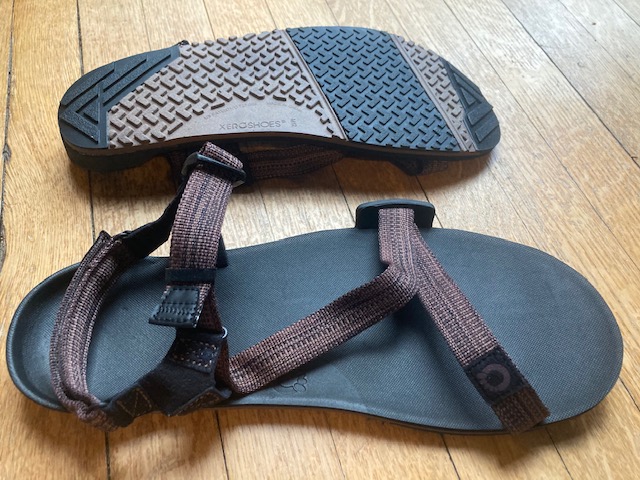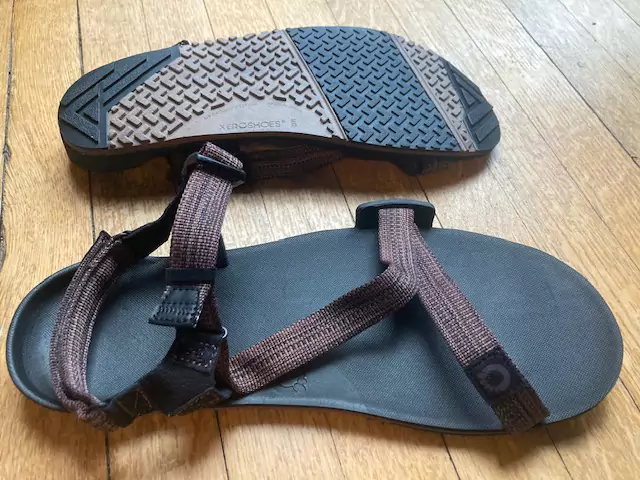 | Parameter | Score | Details |
| --- | --- | --- |
| Weight | 9.9 | 10 Very light, especially for 10MM outsoles. |
| Wide toe box | 8.8 | Open forefoot with a fully adjustable strap over the forefoot area with a wide enough outsole for most users. |
| Heel to Toe drop | 10 | 10 Zero drop from heel to toe with all Xero Footwear |
| Sole flexibility | 9.2 | Very flexible. The strategically placed heavy-duty rubber means the outsoles are uneven relative to how they flex when you hold them and roll them up. On the feet, they flex just right. Contact points at the forefoot and heel are heavier weight. Lighter-weight rubber is used elsewhere to give them an "impossibly" light feel. |
| Foot grip | 9.5 | A very effective lacing system consisting of a buckle at the midfoot and Velcro on the heel, with a "loop" opening on the forward outside strap post to lock in the tension of the strap over the forefoot. Triple adjustable for fine-tuning. |
| Support | 10 | No feel of any support, very flexible materials. |
| Cushion | 9.3 | Perfectly comfortable. With wear, expect some compression in the upper, softer rubber section of the outsoles. As the outsoles wear with use, those contact points will get thinner, making the Z-Trails ideal for certain uses. In other words, heavy use can make them more minimalist, which changes their ideal purposes over time. I keep a few pairs of Z-Trails on hand in various stages of wear. Heavily used Z-Trails will give more feedback from the trail. I just bought a new pair for a 100-mile trail race in Florida. That extra cushion will be ideal for that application. |
| Flat sole | 9.5 | There is no arch support in any Xero Footwear. As the outsole molds to the foot a bit, the outsole may no longer appear flat while not in use. Thickness at the contact points will be thinner with wear and compression. |
| | | | |
| --- | --- | --- | --- |
| Parameter | Score | Details | % |
| Does it do what it supposed to do? | 9.7 | An excellent off-road sandal. | 50% |
| Overall comfort in use: | 9.5 | A good lacing system. | 10% |
| Durability and quality of materials: | 9.9 | Very durable materials, help a hole 100-mile ultra marathon, and more. | 20% |
| Surface grip: | 9 | The grip is very good for general use and is good on wet surfaces. Some trail runners might expect a bit more "rugged" tread design. Watch for that in future models from Xero Shoes. | 10% |
| Temperature management | 9.7 | Obviously, a sandal is ideal for warmer climates, but it's easily adjustable to allow use with socks for cooler temperatures. Since there is no huarache style toe post, any standard sock can work with Z-Trails. | 10% |