Vivobarefoot TRACKER DECON LOW FG2 editor review
Brand:
Vivobarefoot
Model:
TRACKER DECON LOW FG2
Minimal Meter:
Excellent minimalist standards.
Who should use it:
Minimalists looking for a hiking shoe with the thermal-regulating properties of Woolmark.
Most suitable for:
They're great for outdoor activities: walking, running, and hiking. Recommended for wet climates as there is suitable grip and tread.
Durability & Protection
75
Checkout full description and user reviews:
Review Summary
This is a hiking shoe that truly shines when used outdoors. It can also be used for athletics but isn't made for that purpose. These are my introduction to barefoot shoes, so the review will be my thoughts on the Vivobarefoot Tracker Decon Low FG2 in comparison to traditional (hiking shoes). I'm very happy with the quality of these shoes and I look forward to wearing them more as my feet adjust to the feeling and intricacies of minimalist footwear.
Lightweight, small, and easy to travel with.

Spacious enough for the foot to sit comfortably in the shoe.

Durable enough to handle rough terrain.

The fantastic grip on wet hikes.

Stylish enough for casual wear (it doesn't look like a traditional hiking boot)

Great foot feedback for running and jumping activities.
Not ideal for weightlifting (lack of lateral support). 

The heel area has a bit too much room, causing friction.

As my introduction to barefoot shoes, I can't wear them as often as I'd like as it takes more time for my feet to recover (although, after 6 months, my feet have finally adjusted!)
From the Vivobarefoot website: "Feel free, trail after trail. The Tracker Decon Low FG2 is an extra rugged take on the Tracker's classic hiking DNA."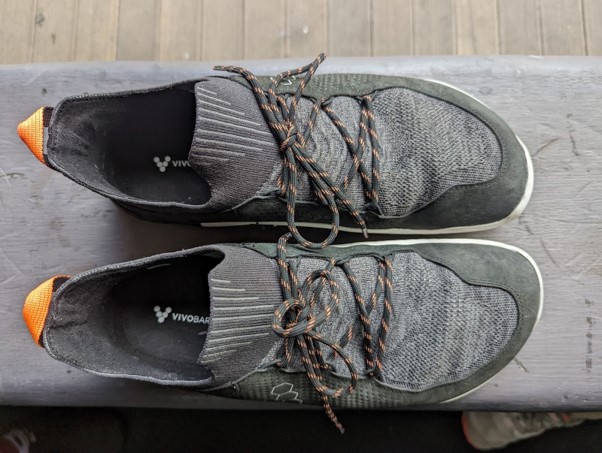 Materials:
The breathable, lightweight upper is made from Woolmark® wool and wildhide leather for extra flexibility, and the renewed outsole brings improved grip on variable terrain.
Upper: Woolmark® wool & wildhide leather

Inner Sock: Made with Woolmark® wool for thermal regulation and anti-odour properties.

Insole: The

Outlast

Thermal Insole offers temperature-regulating technology; absorbing, storing, and releasing heat. This smart thermal layer responds to accommodate the naturally changing temperatures of the feet.

Outsole: This model has a renewed outsole, bringing improved grip on variable terrain. The Firm Ground Sole offers multi-terrain traction and a sticky rubber compound for all-around grip and durability.

Finished with metal hardware and a side-stitched outsole construction for extra durability.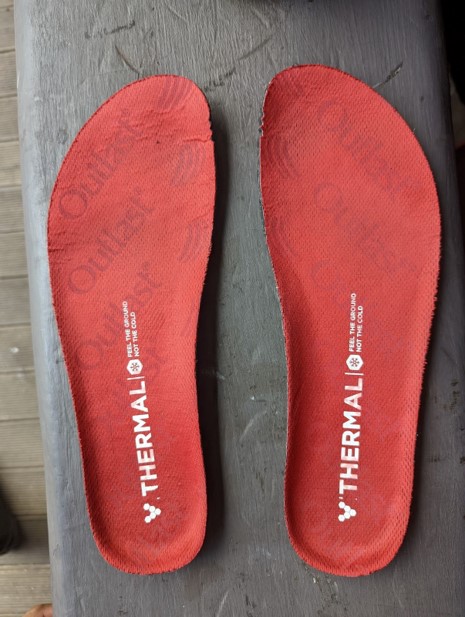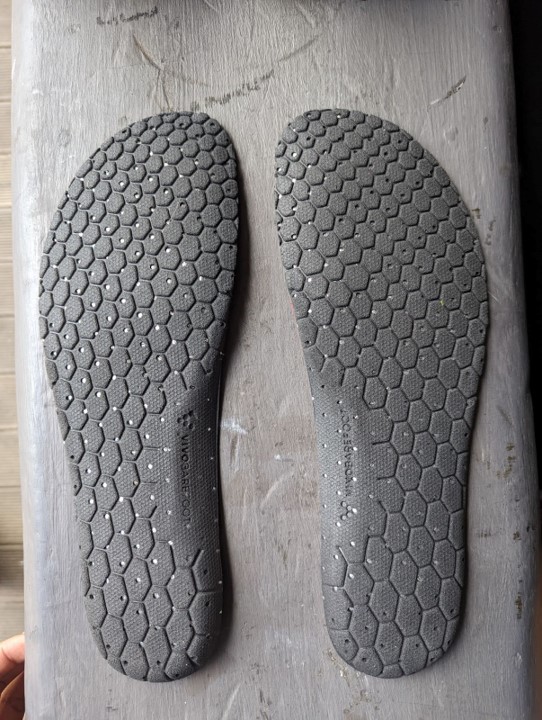 Flexibility Test:
Performance:
In terms of performance, I was very impressed. When hiking on wet terrain, I felt safe (with almost no risk of slipping). Everyone else on the hike was constantly working hard to stay on their feet, but I had no issues.
In comparison to traditional shoes when training, I felt a lot more in tune with my lower body due to the constant feedback my feet were getting on the ground. I really enjoy jumping, running, and any fast, low-impact activities. However, I did struggle with (Olympic) weightlifting in them as I prefer a lot of support on the heel and side of my feet to support the fast and aggressive lateral movements. I do think that I could get used to these shoes, but it would take some time.
I prefer the Tracker Decon Lows for outdoor activities but would potentially look at a different model for indoor activities such as training and working as a coach at a gym.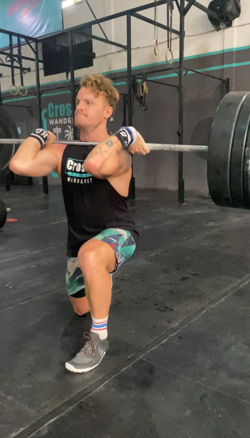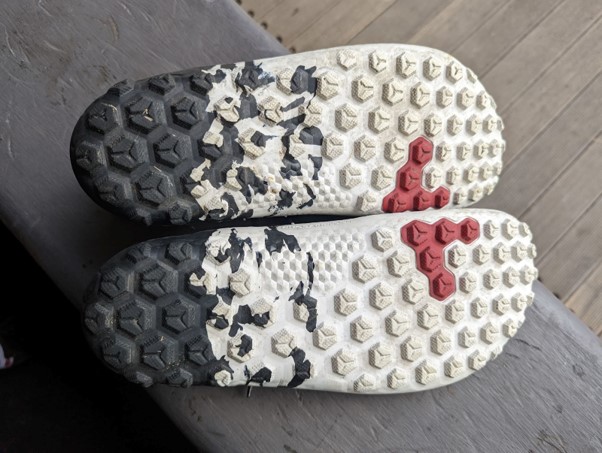 Back squats with Vivobarefoot Tracker Decon Low FG2:
Olympic Lifting (Power Cleans) & Reverse Lunges:
How it feels:
The Vivobarefoot Tracker Decon Lows feel very different from anything I've ever worn before. They're great for outdoor activities: walking, running, or hiking. These shoes are very light and have an incredible barefoot feel – I love feeling connected to the ground. For example, I can feel every bump and rock and that gives my feet great feedback. 
After my first hike in them, my feet took a couple of weeks to recover as I'm new to using barefoot shoes. I wanted to wear these more, but I needed to acclimate to the big differences from traditional footwear. After 6 months, it finally feels like my feet have adjusted to hiking in them and I no longer experience the soreness that I used to.
Hiking in them:
Durability & Protection:
These shoes have held up very well to general fitness abuse! I've worked, walked, ridden scooters, ran, and hike in them. After 6 months, they're not showing any signs of wear that are out of the ordinary. I'm confident that these hiking shoes have a lot of life left in them.
Fit & Sizing:
The Tracker Decon Lows feel very spacious – it feels like the shoe fits around my foot, rather than my foot trying to squeeze into a shoe. However, it does feel like there's too much space in the back of the heel, making running uncomfortable (and leading to blisters).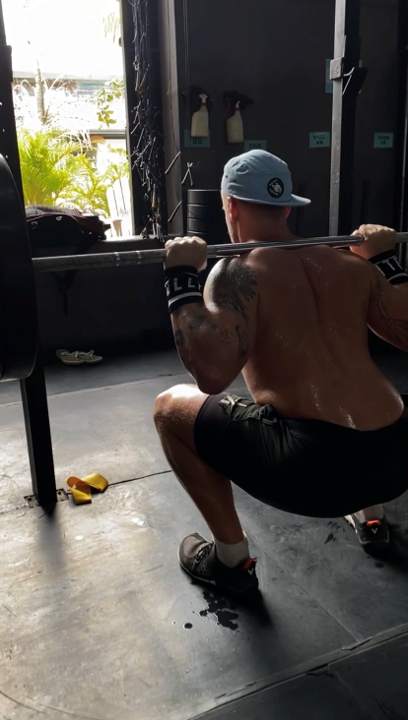 Cleaning & Care:
As none of the current articles seemed completely relevant, we reached out to Vivobarefoot for an official state on cleaning, specifically for these shoes:
"We recommend using natural products where possible for cleaning & weather protection. Construction methods and materials vary across styles and we would always recommend using soapy cold water rather than a washing machine for our performance shoes.
In the interest of increasing the lifespan and appearance of your shoes, we have now partnered with Liquiproof. The innovative spray uses nano-technology to create a protective coating for your shoes, making them liquid repellent and should help protect against spills and splashes.
These cleaning products are now available for purchase through the Accessories section of our UK website https://www.vivobarefoot.com/uk/accessories
Alternatively, if we don't have the product you are after we would recommend purchasing directly from Liquiproof (https://liquiproof.co.uk)
If you do not wish to purchase specific cleaning products then we would recommend simply wiping them with a damp cloth and leaving them to air-dry away from any direct sunlight or heat.
Additionally, products such as Nikwax (http://www.nikwax.com/en-gb/) are great for our Leather products!"
Minimalist AVR Score:
Read more about what this means
| Parameter | Score | Details |
| --- | --- | --- |
| Weight | 80 | 220g (size 42). Heavier than other barefoot shoes, but lighter than typical hiking shoes. |
| Wide toe box | 90 | Wider than any other traditional shoe that I've worn before. |
| Heel to Toe drop | 80 | 0 drop; more tread than other barefoot shoes, but less tread than traditional hiking shoes. |
| Stack Height | 80 | 2.5mm base and 4mm lugs. |
| Sole flexibility | 95 | More flexible than any other hiking shoe that I've worn. |
| Foot grip | 65 | Too much space in the heel. |
| Support | 80 | Less support than typical hiking shoes, but that's a good thing in this case! |
| Cushion | 80 | More cushion than other barefoot shoes, but still significantly less than most hiking boots (although the heel has too much padding for me). |
| Flat sole | 95 | The only point deductions here are from the thermal insole…but this can be removed! |
Specs
| | |
| --- | --- |
| Brand | Vivobarefoot |
| Model | TRACKER II FG |
| Product Type | Shoes |
| Activity Type | Hiking |
| Terrain | Off Road, Road, Water |
| Eco Friendly | Recycled, Sustainable Materials |
| Design | ,Boots, |
| Materials | |
| Season | Colder Whether |
| Sole Attributes | |
| Water Protection | Waterproof |
| Weight | 11.6 ounces (330g) for Men's and 11.6 ounces (330g) for Women's |
| Heel Toe Drop | 0mm |