Pros
True minimalist design with 5.5MM outsole that includes a 5000-mile warranty, and a 2MM removable insole.
New vehicle tire inspired tread pattern.
Reflective trim for enhanced safety at night.
Attractive, flexible, light with some extra toe protection and a breathable upper mesh designed for sock free use.
Uppers have enough material to help keep feet warm in sub-freezing temperatures, yet are light and breathable for hot summer days.
Cons
I typically need to double knot the laces to prevent them from coming loose. If there were a way to improve the laces, that might be nice. I'd give this model a 10, but that wouldn't leave room for improvements.
| | |
| --- | --- |
| Specs |   |
| Use | Road Running shoe designed for paved surfaces |
| Weight | 6.8 oz per shoe for a men's size 9 |
| Materials | "Vegan Friendly" Rubber and fabric |
| Water | Not waterproof. Dries faster than the similar Xero Prio model |
| Widths available | One standard width. Xero Shoes are designed with a generous forefoot area to handle most foot widths. |
| Season | All-season use. I like my shoes sized and laced loosely, which will usually allow for a heavier weight sock for sub-freezing temperatures. By removing the insole, you can 'create more space" to add a heavier weight winter sock. |
Check out all models and prices for minimal vegan road running shoes. You can compare prices and specs using our minimal shoes price scanner.
Xero Shoes was founded on selling simple huarache kit sandals roughly ten years ago, so they started with the least foot protection and built their lineup from a paradigm where everything is functional with the least impact on the natural motion. All other Xero Shoes and sandals have a functional strap on the sides for tension adjustments. The HFS is an exception, the pattern of stripes on the HFS are a nod to the huarache lacing appearance and are reflective. For my use, the heel area has been stable enough via the regular laces on top. The huarache style pattern is a wise nod to their history and style. HFS means Happy Face Shoes, or High-Frequency Stride. Or whatever you prefer, holy Flippin Shinola!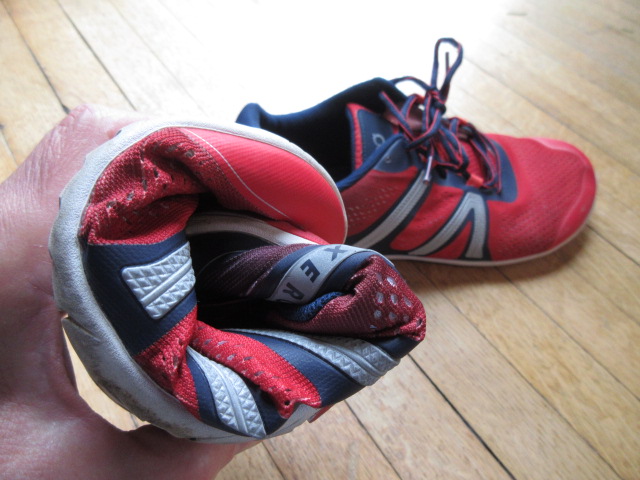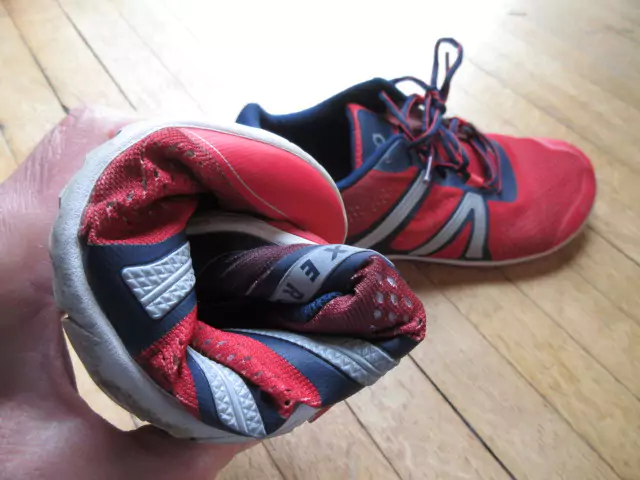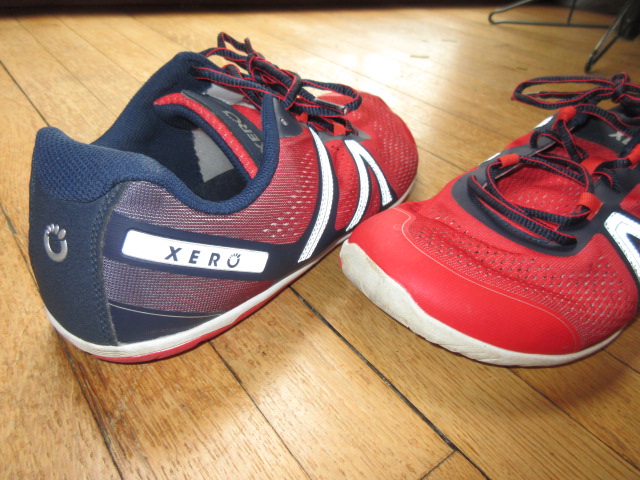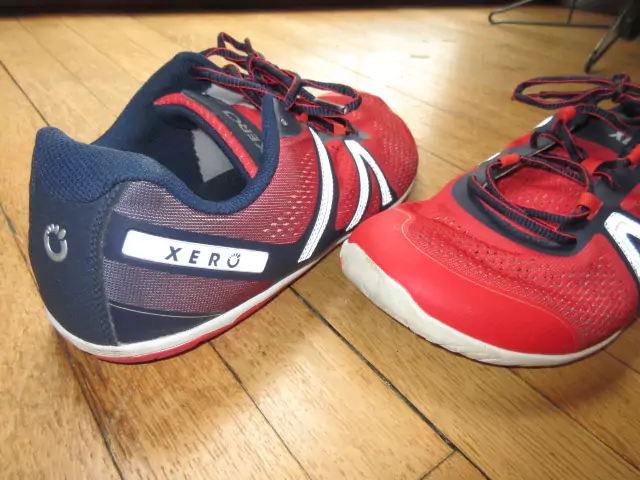 The HFS is the first shoe I've ever worn for an entire 100-mile foot race! Typically, people know me as "the sandal guy". My "HFS 100 mile run" was not planned and I wore toe socks due to many hours of sub-freezing temperatures for that run over Mother's Day weekend. I had sandals in my drop bags to wear for the warmer mid-day temps, but my feet were so comfortable and my pace strong enough that I opted to leave the HFS's on for the full distance, which was mostly blacktop bike trail with occasional opportunities to run on gravel, dirt or grass. I've found the HFS very nice for trail running as well. The heavy lugs on many trail racing shoes can inspire a false sense of security, so as an ultra runner focused on injury-free running, I prefer to keep a safe pace and recover quickly for the next race. Nominal tread patterns work for me on rugged trails, especially if I add trekking poles for a safety assist.
The insoles are easily removed for cleaning or to get more feedback from the terrain. It feels like the outsole rubber on the HFS is a bit softer than other Xero models, but I'm not sure if that means the rubber may wear down faster. I find this shoe to be super comfortable and keep the laces extra loose so the running experience feels a bit like running in sandals. All Xero footwear is truly minimal. All are zero drops from heel to toe, no arch support, wide forefoot areas, thin and flexible outsoles, and lightweight.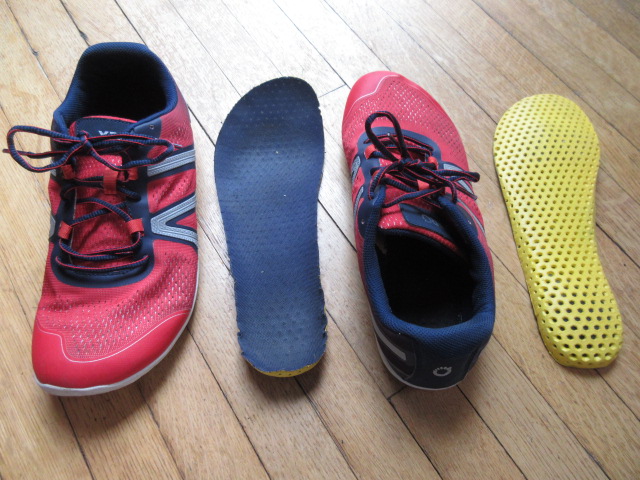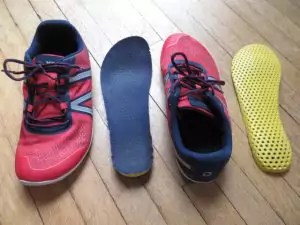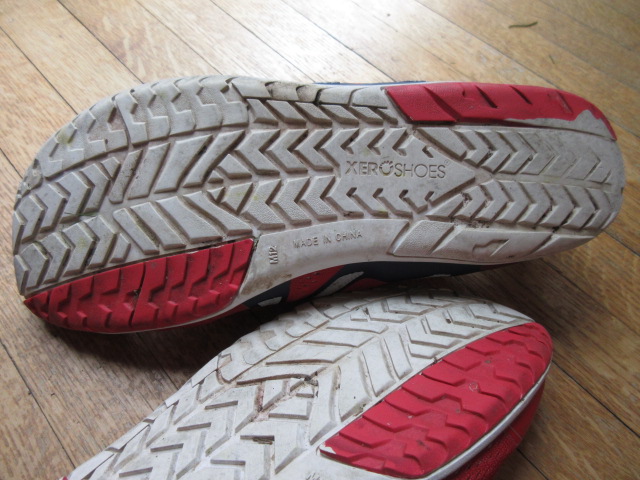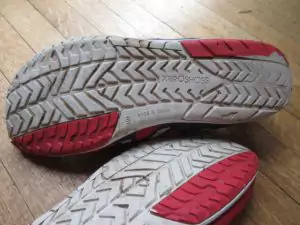 Ultramarathon runner Randy Kreill runs a 100 mile with XeroShoes HFS, a Minimalist Road Running Shoe, and survived to tell about it!
A 100 mile race with XeroShoes HFS!
| Parameter | Score | Details |
| --- | --- | --- |
| Weight | 9.9 | Very light |
| Wide toe box | 9.7 | Wide and flexible |
| Heel to Toe drop | 10 | No drop at all |
| Stack Height | 9.2 | 5.5MM outsole and a 2MM removable insole |
| Sole flexibility | 9.7 | Very flexible |
| Foot grip | 9.7 | Effective lacing system for getting your custom fit |
| Support | 10 | No feel of any support, very flexible materials |
| Cushion | 10 | A plush "ride" for such a minimalist running shoe |
| Flat sole | 10 | No arch support and zero drop from heel to toe |
| | | | |
| --- | --- | --- | --- |
| Parameter | Score | Details | % |
| Does it do what it supposed to do? | 9.8 | Yes and it does much more | 50% |
| Overall comfort in use: | 9.9 | Very comfortable materials | 10% |
| Durability and quality of materials: | 9.9 | Run a 100 mile ultramarathon and much more | 20% |
| Surface grip: | 9.7 | Very good traction | 10% |
| Temperature isolation | 9.9 | Well ventilated for year round use | 10% |